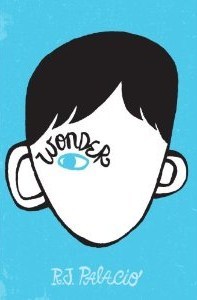 Auggie was born with a facial deformity, and the constant hospital visits have kept him from going to school. He likes learning at home with his mom, and no one stares at him there. However, he is about to enter 5th grade and finally start public school at the local Beecher Prep. Auggie wants to be treated normally because nothing is wrong with his brain. However, some people at his school can't seem to get past his face. Auggie knows that he will simply have to find a way to show everyone that his face has nothing to do with his personality.
I love this story, yet I don't focus that much on Auggie throughout it. My favorite character of this entire story is Via, Auggie's sister. I feel that the siblings of those with either a mental or physical disability are the true heroes. In this case, Auggie simply had a facial deformity and no disability at all, but Via always defended him when other people stared as they were outside. Even though she was stressed about going to high school, she still had to put on a brave face when her brother was having a bad day. Being a big sister is stressful, being a big sister to a brother who has constantly been in and out of hospitals and who is in danger of being bullied daily is extremely stressful. Yet, she doesn't hold any permanent grudges against him, and usually just tries her best to take care of her problems by herself.
Overall, this is a story that I feel that everyone should read. It speaks about acceptance and looking past the outward looks to the personality beneath. I read this sometime between 7th and 9th grade, and I do not regret reading it in the slightest. This book and Out of My Mind truly made me see the world and the people in it differently. These should definitely be required reading in schools!
Overall Rating: 5/5