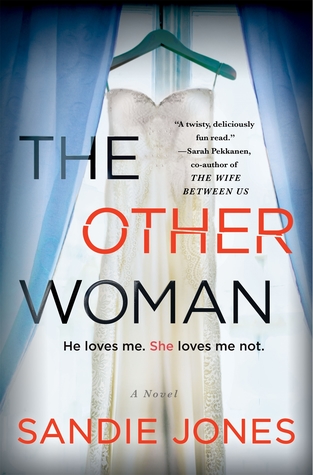 Emily loves Adam and thinks that everything is going to work out perfectly with him, but then another woman is interfering with their relationship: His mother Pammie. Pammie seems to be sweet to everyone but Emily. Adam is very protective of her, and Emily is sure that Pammie is going to do everything to tear apart her relationship with Adam. She doesn't know why Pammie hates her, but as she starts snooping, she finds out even darker secrets and starts fearing for her safety. All she knows is that she will not let Pammie come in between her and her happiness with Adam. She will do anything to get Pammie out of their lives.
Even though Pammie was quite manipulative towards Emily, I thought that Emily was a little bit harsh at the start of the story. She barely knew Pammie at that time, but she was still doing some things just to spite her. For example, Pammie didn't want her and Adam sleeping int he same room because she had "old-fashioned" ideals, but then they are caught in a compromising position by her. Even though Adam was clearly upset by the situation, Emily refused to even give him time to get over the situation. She kept pushing herself on him, and when he refused her, she got mad at both him and Pammie. I understand that Pammie was supposed to be evil, but let's pretend she wasn't and that the roles were reversed. A girl's mother walks in on her in a compromising position with her boyfriend, and the girl is mortified, especially when her mother hadn't even wanted them to be in the same room. Rather than understanding the girl's desire to take a break, the boyfriend continues her to pressure her even more. Adam just insulted Emily and "hurt her feelings," but the point was that Emily was trying to push him into something that he did not want to do. If Emily thought that Adam was no longer interested in her, she should have broken up with him.
Also, Emily continues to believe that Adam is the "perfect" boyfriend, even though they kept having issues. If she had just broken up with him and found someone who really appreciated her, the drama would have ended. She could have even broken up with him because his mother was crazy! There were literally so many reasons for her to have broken up with him, but for some reason, she decided to stay. I don't even know why she stayed, she had more chemistry with his brother than she actually had with him.
Also, one thing that was never explained was how James, Adam's brother, ended up staying with his girlfriend. He was a big story arc where he was spending time with Emily, and seemingly trying to take her from Adam. Then, even though some things were explained at the end of this book, this was never explained. And then, he just went on to stay with his girlfriend and stop being interested in Emily. I don't know how that worked out.
This book was a bit of a thriller, especially as the story went on. Also, the ending of this story really saved it for me. I wasn't liking it until everything started to come together. Needless to say, I was definitely not expecting what happened at the end. I would suggest spending some time reading this book just to be able to read the end.
The plot of this book moved fairly smoothly. There were a few time skips as Adam and Emily's relationship continued. I didn't enjoy these much, but they were necessary for the story to progress. It also allowed for a lot of time to be covered in a short amount of time.
I was able to focus on this novel and keep at a steady pace whilst reading it and finished the entire thing in about 3.5 hours. For a person who is usually easily distracted while reading, this was pretty good for me. Especially considering that I was reading while technically "working", and had to stop a few times to help people find things in the library. This is a book that will definitely draw you in, even if you don't completely agree with how the story is going.
I'm not sure if I could truly recommend this book. I didn't like the main character, and I didn't like the romance, but I did like the end and I enjoyed how the story flowed. Make your own decision, as you might like this type of romance!
I received an advance copy of this book, and this is my voluntary review.
Overall Rating: 2 out of 5 stars